Rachel I. Mayberry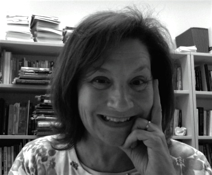 Rachel I. Mayberry is a professor in the Department of Linguistics at UCSD. She uses sign language and deafness as a means to model the critical period for language from both psycholinguistic and neurolinguistic perspectives. She received the Ph.D. from McGill University, the M.Sc. from Washington University, and the B.A. degree from Drake University. Prior to joining UCSD, she was on the faculty at McGill University before that a research scientist at The University of Chicago.
Interdisciplinary Affiliations at UCSD
Center for Research on Language
, Member
Cognitive Science Program
, Affiliated Faculty
Center for Academic Research and Training in Anthropogeny (CARTA)
, Member
Human Development Program
, Affiliated Faculty
Joint Doctoral Program in Language & Communicative Disorders
, Affiliated Faculty
Courses
(not all courses taught every year)
Lign 7 Sign Language and Its Culture
Lign 148 Psycholinguistics of Sign Language
Lign 171 Child Language Acquisition
Lign 280 Sign Language Research
Lign 281 Language Acquisition: Theory & Research
Lign 282 Biology and Environment in Language Acquisition
Contact
Department of Linguistics
University of California San Diego
9500 Gilman Drive, MC 0108
La Jolla, CA 92093-0108 USA
858-534-2929 (voice mail)
Email:
Office Hours
By appointment.
Location
Office: AP&M (Applied Physics & Mathematics) 4230